mga paps,
gusto ko lang sana i-clarify sa mga owner kung tama ang pagkakaintindi ko:
Rear case fan pwede:
1. 92mm
2. 80mm
3. 120mm via 80mm to 120mm adapter
Front case fan:
1. 140mm ( 2 positions available? 1 at center and another at slightly off center?)
2. 2 x 120mm at top and bottom (is there 120mm fan mount in the center for just one 120mm fan?)
3. 2 x 92mm at top and bottom (?)
Bottom:
1. 120mm (are there any other fan mounts for other sizes like 92mm?)
tanong ko lang sana, planning to build a rig with this case. just wanted to be clear sa mga case fans na kukunin ko.
thanks mga paps!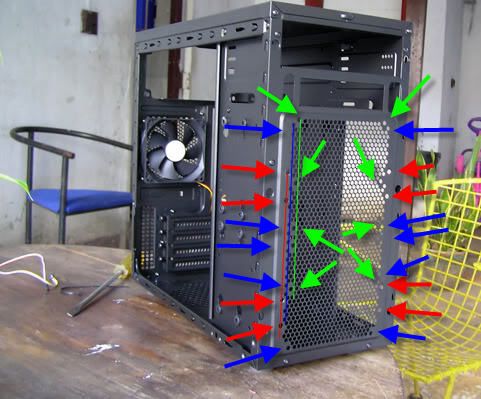 tama ba to mga sir?
red = 140mm mounts
blue = 120mm
green = 92mm
-- edited by idecris on Jun 21 2013, 05:01 AM