Special/Collectors Edition for Ps3/360 of GTA V: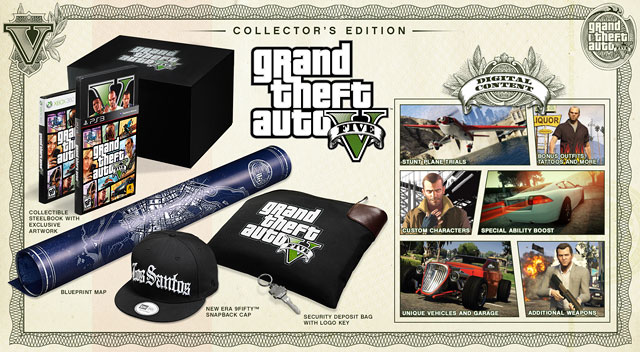 The GTA V Special Edition is the lesser of the two limited editions, but still offers a healthy amount of content for fans. At $79.99, it includes a SteelBook case, a blueprint map of Los Santos and Blaine County, a regeneration boost for each character's in-game special ability bar, extra challenges for the in-game stunt plane vehicle, bonus outfits and tattoos, special deals at in-game shops, and additional weapons (the Pistol .50, Bullpup shotgun, and melee hammer).

The $149.99 Collector's Edition comes with everything included with the Special Edition, plus a unique outer box, a real life "security deposit bag" inspired by the in-game heists, a New Era hat with the Los Santos logo, classic GTA characters for Grand Theft Auto Online, and a special garage with custom vehicles (the "Hotknife" hot rod and CarbonRS sports bike in single player , and the Khamelion electric car in GTA Online).
of course sa consoles palang eto..sana mayroon din ang PC na ganito..